College Relations Director
Chapter Contacts
OVERVIEW
Getting involved with the Student Chapter is a great way to network with future HR professionals. You will have the opportunity to advance the profession and recruit future staff all at the same time. Ways to get involved include informing the student chapters of internships available, volunteering as speakers for the student chapter meetings, volunteer as a mentor, provide a job shadowing day or host a company tour. We also need volunteers at the HRGames/Student State conference held annually.
Student Programs
The Society for Human Resource Management's Student Program was created in 1965 to promote mutually beneficial interaction between HRM students and practitioners. Since the first chapter was chartered more than 40 years ago, the student program has experienced tremendous growth. The program now includes over 450 affiliated student chapters and more than 15,000 student members.

What does a SHRM student chapter do?
SHRM student chapters have regular meetings, usually weekly or bi-monthly, with scheduled programs designed to help members learn more about HR and the real world of business. Elected student officers run the chapters with the assistance of a chapter advisor and sponsoring professional SHRM chapter members. Chapters invite local business people to speak to the members about current developments in the business world and how they will impact future workers. Beyond the regular meetings, chapters organize a variety of activities including company tours, student conferences, resume-writing and interviewing workshops, fundraisers, internship programs, and social events. These activities allow you to learn more about HRM while building relationships with local professionals and other students and of course, having fun!
I am working in HR, but I am also a student. Should I join as a student or a regular member?
Regular (professional) membership is designed to meet the needs of people currently working in the HR field, while student membership is designed for individuals just exploring human resources and preparing to enter the profession.

The student dues rate of $35 does not fully cover the cost of student membership services, so the Society subsidizes the cost in order to make the membership affordable to students. Regular professional members of the Society pay annual dues of $160 and receive additional services to assist them in their professional roles. While students and professionals receive some of the same benefits, the memberships are different. If you plan to use the membership to assist you in your work as an HR practitioner, we recommend that you join as a regular member to gain full access to all services and benefits. Benefits of each can be found below.

What are the eligibility requirements for student membership?
Since the student dues rate is subsidized by the Society, the SHRM Board of Directors has established qualifications for acceptance as a national student member. You are eligible for student membership if:
You are enrolled in the equivalent of at least six (6) credit hours per term in a degree-seeking program.
Your coursework, taken or planned, supports an interest in Human Resource Management.

How much does it cost to be a student member?
National student membership dues are $35 per year. (The membership includes a subscription to HR Magazine which would cost $70 if ordered separately.) Some local chapters collect additional dues to use for chapter projects.

While this may seem like a lot of money, consider the fact that you often pay more for one college textbook that will be used for a few months than you will for your SHRM membership that will continue to provide benefits for an entire year. SHRM membership is an investment you make in your future!
Contact Information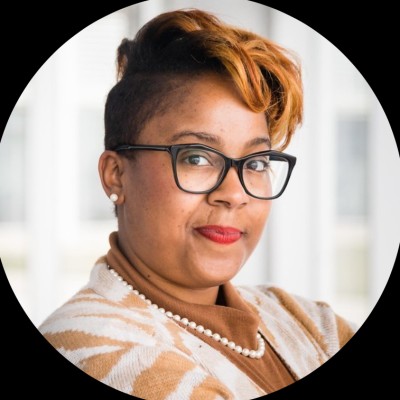 ---
Biography
Originally from Seattle, Washington, Alexis B. Carter has called Milwaukee home since 2001 following a relocation to the Midwest. Carter received her BA in Business and Management from Alverno College and her Master's Degree in Science and Management from Cardinal Strich University.

For the last 14 years, Carter has held positions focusing on the functions of Human Resources and Education (K-12 and Higher Ed). Carter's experience in executive-level recruitment, talent acquisition, and employee incentive programming has helped shift the organizational culture of a variety of organizations and promote change management. In K-12 and higher education settings, she has passionately served in the public, private and charter sectors, most recently serving for four years, as the Director of Admissions and Enrollment at St. Joan Antida High School, an all-girls school.

In 2019, Carter returned to her alma mater, Alverno College as an employee, to serve in the role of Assistant Director of Admissions for Undergraduate students. It has been a pleasure for Carter to be able to serve in all-girl educational space and promote college to prospective students and families.

Carter is currently studying to get her credentials to be a certified professional of Human Resources by taking the SHRM – CP exam in the summer of 2020. Carter served on the Executive Board of Directors at Highland Community Montessori School, is a current member of Milwaukee Metro Society for
Human Resource Management, is a member of the Diversity Equity & Inclusion Council at Alverno College, and helps combat homelessness as a member of the Salvation Army's millennial professional group: Echelon Milwaukee.

In her spare time, Carter enjoys watching Wisconsin sports (Go Bucks Go!), playing on her local kickball league, playing the violin, cooking, gardening and spending time traveling with her husband and eight-year-old son Che (like Hey but with a C).
Additional Information
Resources