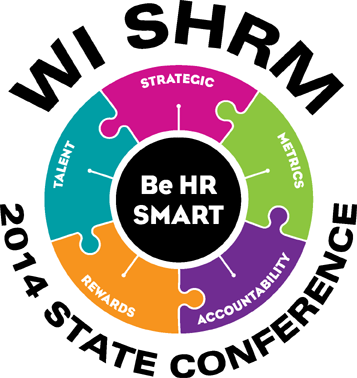 October 15–17, 2014

Monona Terrace Convention Center
One John Nolen Dr, Madison, WI 53703
A must watch video on Modern HR 'Evolution of the Workplace' by Mike Bollinger, VP - HCM Transformation & Thought Leadership brought to you by our Premiere Partner ORACLE'. In this video you will hear how being "HR Smart" means understanding the talent pipeline compression, how being HR Smart can impact your business through your own transformation journey and how the skill set of the HR practitioner must change to match.
---
Who Attended the 2013 WISHRM Conference?

HR Professionals came from all over the state (national SHRM members, local SHRM members, and non - SHRM affiliated professionals as well).
HR Professionals from various different industries attended the conference.
HR Professionals with various roles and levels attended (HR Directors to HR Managers to HR Generalists to HR Assistants to HR Students and everyone in between).
Attendees with various number of years in an HR role attended (the average number of years in an HR or an HR-related field was 13.6 years for the 2013 conference).

Wireless Internet Access

All visitors have access to the Monona Terrace wireless network with 99.99% reliability. A 128k connection is available free of charge and a 10MB connection can be paid via Visa, MasterCard, American Express or Discover for $10 per day.

The free Wifi at the Monona Terrace is not password protected.

Reasons to Attend:

Gain advanced knowledge on HR topics, policies, trends, and happenings
Take away practicable ideas, solutions, and tools
Get tools, tips and resources that maximize your effectiveness and efficiency
Build your network of peers and resources
Enjoy fellowship with other HR professionals
---
John Izzo
"Stepping Up: Creating a Culture of Ownership"
Thursday, October 16th, 2014
8:15 – 9:45 a.m.
HRCI Credits: General
Track Level: Intermediate
Sponsor: Humana

Kathy Dempsey
"Shed or You're Dead: How to Stay Alive & Thrive in the Midst of Change"
Friday, October 17th, 2014
12:15 – 1:30 p.m.
HRCI Credits: General
Track Level: Intermediate
Sponsor: Anthem Blue Cross and Blue Shield
---
Check back here for more details as updates will be posted regularly.
---
SHRM Bookstore Offer -
Order top HR books, DVDs, software and more online at www.shrmstore.org between August 20 and November 30 and receive FREE shipping!* Simply enter promo code WI145T at checkout to receive this special offer from the Wisconsin State SHRM Conference. ***Minimum purchase of $25. Does not apply to purchases of the Learning System.

Exhibit Registration Now Open -
Exhibitors will have an opportunity to take advantage of special advertising in our program. As an additional bonus, if you choose to become an exhibitor there will be a 10% discount off of advertising based on the size of the ad you desire. In addition, the conference offers opportunities for sponsorship which will maximize your firms' exposure while demonstrating your commitment to the HR profession. Click Here to Exhibit
Thursday – Pink Out!

Cancer has impacted all of us in some way. We are taking the chance to support cancer awareness by wearing pink on Thursday. American Cancer Society will have a booth set up for the day too! Each attendee will receive a pink ribbon to use during the Exhibitor activity. You will be asked to visit all of our exhibitors, learn about their service offerings and collect buttons to fill your ribbon. When complete, bring your ribbon to the raffle drawing area in the front of the room to get your name in the drawing! Massages will be offered this year to relax those tired bones and aching temples will be on hand!

Wisconsin Singers

, local entertainment, is excited to be presenting on Thursday evening.

Don't forget to bring your colleagues and join us for some great entertainment and good conversation!d with local Madison entertainment.