Wisconsin Society for Human Resource Management (WI SHRM)
-2014 State Conference Keynote Speakers
8:15 – 9:45 a.m. | General HRCI Credits | Intermediate Track Level
"Stepping Up: Creating a Culture of Ownership"


Thursday's Keynote Sponsored by Humana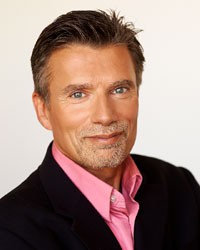 The Stepping Up for Change session is aimed at getting participants to take greater ownership, bring more innovative ideas, become stronger change agents, take more personal initiative for solving problems, challenge themselves to grow, and to create a climate of ownership around them.

Through exploring the dynamics of personal responsibility, taking initiative, risk taking and clarity of vision, participants will learn:
· Why taking responsibility matters- how our lives, careers, relationships, organizations, and communities can be radically better if we look to ourselves to change things rather than looking for others to do it
• How to do what we can do, where we are, in our own sphere of power
• Explore what it means to be and act like an "owner" in various realms both in personal and work life
Learn the keys to creating a culture of ownership:
· Giving People A Seat at the Table
· Giving Responsibility to Foster Responsibility
· Learning how to encourage ideas and innovation along with divergent thinking
· Develop a "tight-loose" style where outcomes and goals are clear while giving lots of leeway for the "how"
The Keys to stepping up and having more influence include:
· Naïveté and Optimism
· Flexible mindset about your own skills and capabilities
· We are all Leaders- Leadership is a posture and choice
· Influence is at the heart of Leadership
· The 100% Responsibility/0% Excuses model
· Exercising True Grit when the times get tough
· Cultivating an Initiator vs. Victim approach to challenging situations
· Leveraging the 'responsibility ripple'
· Speaking up-How to Be a Constructive Irritant
· Ensuring all key players have a seat at the table
Dr. John Izzo helps companies maximize their potential from the ground up. For over 20 years, Izzo has worked with thousands of leaders around the world, on employee-engagement strategies and brand transformations. Now, he shares the secrets to how purposeful leadership translates into sustainable success, with audiences everywhere.
Dr. Izzo is the former senior organizational-development consultant for Kaiser Permanente, and former Vice President of The Einstein Consulting Group, an international customer-service consultancy. He advises some of the world's most admired companies, teaches at major universities, conducts leading-edge research on workplace values, and has spoken to more than one million people around the globe. He has served on the boards of several large conservation organizations, worked with over 100 companies to create more socially responsible workplaces, and was chair of the North American Environmental Caucus at the UN Conference on Development and Sustainability in Cairo.
Frequently profiled in the media, Dr. Izzo has appeared on CNN and Canada AM, and in the National Post, The Globe and Mail, The Wall Street Journal, and Fast Company magazine.
A bestselling author, Dr. Izzo has five books, including Awakening Corporate Soul; Values Shift: Recruiting, Retaining and Engaging the Multigenerational Workforce; The Five Secrets You Must Discover Before You Die; and Stepping Up: How Taking Responsibility Changes Everything.


Friday, October 17, 2014 – Kathy Dempsey
12:15 – 1:30 p.m. | General HRCI Credits| Intermediate Track Level
"Shed or You're Dead: How to Stay Alive & Thrive in the Midst of Change"
Friday's Keynote Sponsored by Anthem- 2014 Premier Sponsor
Millions of dollars and thousands of hours are lost each year due to the inability to get your employees to move forward with change. Why do 75% of all change efforts fail? Managing smart in turbulent times and leveraging your human capital effectively are two of the most critical skills for HR leaders today.
Kathy B. Dempsey, award winning author, keynote speaker and change expert is President of Keep Shedding! Inc. Kathy ignites people and organizations with the skills and motivation to lead and manage change. Her most popular book, Shed or You're Dead®: 31 Unconventional Strategies for Growth and Change has been awarded with a Writer's Digest International Book Award. Her Survival Guide books; A Fast Acting Change RX for Every Employee and Manager & Healthcare Professional has been utilized as a guide for change by 100s of individuals and organizations.
Kathy is a contributing author for two of the NY Times Best Selling Chicken Soup for the Soul books. She is also the editor of 60 Seconds of Shedding. A monthly e-newsletter read by over 14,000 people around the world.

She has achieved the highest earned speaker's designation in the world, the Certified Speaking Professional (CSP) and has twice been designated a Top 5 Speaker for the year. A native of Washington, DC, Kathy now resides in Scottsdale, AZ with her business partner, Lenny the Lizard, the Chief Energy Officer (CEO) of KeepShedding! Inc. Together, Kathy and Lenny ignite professionals with the practical skills to lead and master change.
Check out our Closing Keynote Speaker 1 minute video to WISHRM Conference Attendees.