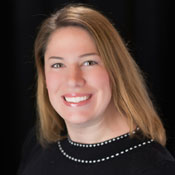 Sheree Yates, SHRM-CP, PHR
WI State Council Certification Director
Educational Credential Evaluators
101 W Pleasant St, Suite 200
Milwaukee, WI 53212
Ph: 414.604.5214
Em:
wishrmcertification@gmail.com
Term Began: 1/1/17

Bio:
Sheree Yates is a HR professional with nearly 15 years of Human Resources experience, with the majority of that time in a lead Human Resource position. Sheree is the Director of Human Resources for Educational Credential Evaluators a non-profit located in Milwaukee. She has a strong knowledge of strategic planning, recruitment practices, organizational change, leadership, employee development, benefits, and training.

Sheree has a BA in Psychology from the University of WI- Milwaukee, and is currently in working on an MS in Organizational Change Leadership program with the University of Wisconsin – Platteville.

She is a SHRM Certified Professional (SHRM- CP) and Professional in Human Resources (PHR). Sheree is a SHRM national member and an active member of SHRM's Racine and Kenosha (SRKA) and Milwaukee Metro SHRM (MMSHRM) chapters. She is serves on the SRKA board as the Workforce Readiness CLA and the MMSHRM board as the Certification Committee Board Liaison.
Sheree currently lives in McHenry, IL with her husband, two sons, and their dog Duke.
---
Additional Information
---