WI SHRM 2021 
State Conference

October 13 - 15, 2021


Kalahari Resort, Wisconsin Dells, WI
Attendee Registration Pricing
Early Bird: Register AND pay by July 31st, 2021

National SHRM Member $475
Non- SHRM member $525
Student $100
Wednesday Half-Day PreConference only $100
Thursday Night Guest $50

 

Register and pay between August 1st and September 15th:

National SHRM Member $550
Non- SHRM Member $600
Student $100
Wednesday Half-Day PreConference only $100
Thursday Night Guest $50

Register and pay after September 15th and Onsite:

National SHRM Member $625
Non- SHRM Member $675
Student $100
Wednesday Half-Day PreConference only $100
Thursday Night Guest $50

Student Rate is only for FULL-TIME students, not working professionals. Working professionals who are also working towards their bachelor's degree should register under the professional registration types, not as a student.
Online Registration Sponsor

Your Comfort and Safety are Important!
We have incorporated many enhancements to ensure your safety and comfort at this year's conference.  We will monitor information from the Centers for Disease Control and Prevention (CDC) and follow wellness guidelines at the Kalahari during the conference. For the latest information on the Kalahari's safe event practices, see:
https://kalaharimeetings.com/our-covid-19-response/
The following wellness initiatives will be in place during the conference:
---
Registration and Attending Sessions
Signage to encourage personal space (social distancing) during registration check-in and in the conference area.

Signage to reinforce proper hygiene and discourage hand shaking – make it a thumbs up!

Single-use and disposable badges.

More spacing between seats in conference sessions.

Mask if required by state or local ordinances or host property requirements.
Exhibit Hall
Traffic patterns are being developed for going through the Exhibit Hall.

The Money Booth will not be available this year. 

The charging stations will be available. 
Throughout the Conference Area
Hand sanitizing stations will be placed throughout the entire conference area.

A Wellness Concierge will be provided by the Kalahari and stationed in the Africa Ballroom Foyer to communicate safety initiatives and monitor their new health standards, as well as answering any questions you may have. 
The Kalahari Resort & Conference Center has instituted many changes throughout the hotel and conference center for your comfort and safety.  More information can be found using these links:

Refund/Cancellation Policy:

All cancellations must be in writing to wishrm@morgandata.com.
 
Attendees Cancellation: Remember that this year's conference offers in-person and virtual experiences. If you find that you are unable to travel to the in-person event, you can attend virtually.

If you decide to cancel your registration, a $100 administrative fee will be charged for conference cancellations received between August 15, 2021 and September 15, 2021 ($25.00 administrative fee for the preconference portion only). Requests for refunds after September 15th will be denied unless there are extenuating circumstances which prevent an attendee from finding another person to attend the conference in their place.  (An extenuating circumstance may include an unexpected death in the family or medical emergency).  Proof of the hardship will be required.  Changing workloads and/or staffing levels at your organization are not considered an extenuating circumstance for cancelling after the cut-off date.  These requests will be reviewed by members of the WI SHRM Executive Council, State Conference Co-Chairs and the Conference Liaison Director on a case-by-case basis.


Exhibitor Cancellation: A 50% cancellation fee will be charged for cancellations made by August 31, 2021. There will be no refunds or cancellations made after August 31, 2021.

We are continuing to monitor COVID-19 and potential impacts on our event in October. If circumstances arise and we find it necessary to cancel our event, we will refund 100% of registration fees paid by sponsors, exhibitors and attendees.
---
Recertification Credit Information: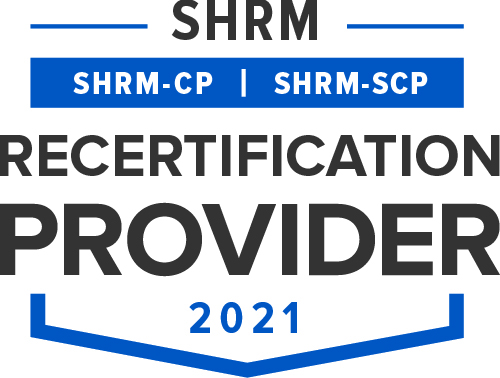 The Preconference Workshop (3.5 credits) and Full Conference (12 credits) have been approved by SHRM Certification.

WI SHRM is committed to keeping our conference as green as possible. We make an effort to provide all information electronically. We hope to limit use of excessive paper by offering electronic conference materials such as the conference schedule, speaker information, accommodation and travel information, and more. Please consider accessing information electronically before printing. We appreciate your efforts towards keeping the conference green as well!