5th Annual WI SHRM Day on the Hill Recap
by Jeff Palkowski, WISHRM Director of Government Affairs and SHRM Advocacy Captain (Wisconsin 1st CD)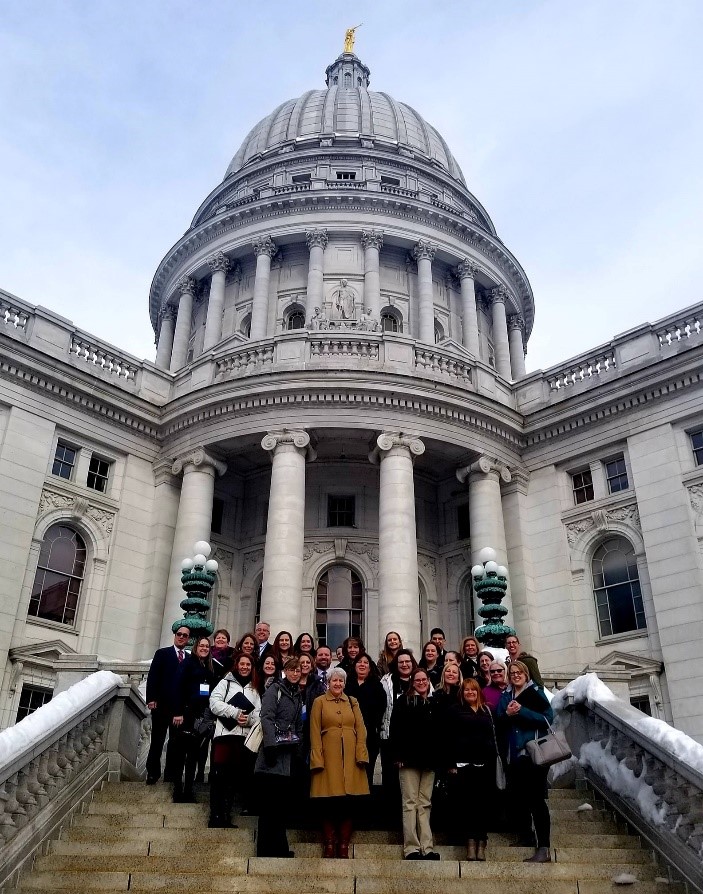 How did you spend your Valentine's Day this year? I spent mine with over 50 human resources professionals from across the state who gathered in Madison for the 5
th
Annual WISHRM Day on the Hill event. This annual event provides Wisconsin HR professionals with employment law and legislative updates, public policy and advocacy updates from National SHRM, and an opportunity for attendees to visit the Wisconsin State Capitol to meet with their elected officials to discuss workplace issues.
This year, we enjoyed a full schedule of speakers and topics which included:
Advancing the Profession by Engaging in SHRM Advocacy – Meredith Nethercutt, SHRM
Under the Capitol Dome: A Quick Overview of Wisconsin State Government – Jeff Palkowski, WISHRM
Legislative Update from the State Capitol – Chris Reader, Wisconsin Manufacturers and Commerce
Wisconsin Government Insights – Chytania Brown and John Dipko, DWD; Rep. Jim Steineke, Assembly Republican Leader; Rep. Gordon Hintz, Assembly Democratic Leader (invited)
Debt & Taxes: Helping Employees Pay Off Student Loans – Atty. Abigail Darwin, Quarles & Brady; Jeremiah DeGollon, Summit Credit Union; Scott Lopez, CUNA; David Aronson, PeanutButter, Inc.
Employment Law and Legislative Updates – Atty. Bob Gregg, Boardman & Clark
The event concluded with most of our attendees meeting with their State Senators and State Assembly Representatives and/or their staff to discuss current workplace issues that are important to employers, employees and the human resources industry.
This event would not have been possible without the generous sponsorship of Boardman & Clark, Weld Riley, Greater Madison Area SHRM, and Wisconsin Manufacturers and Commerce. In addition, the behind the scenes work of the Day on the Hill Planning Committee led by WISHRM Past Legislative Director Elise Rommes, WISHRM Past Government Affairs Director Tony Renning, and Morgan Data Solutions made this one of the best Day on the Hill events yet.
If you missed this year's Day on the Hill event, don't worry, the 6
th
annual Day on the Hill will be back in Madison in 2020. Please visit
WISHRM
for more information including the dates, registration and sponsorship opportunities later this year.