Taking it Outside: The Advantages of Working with an Employee Recognition Partner
The awards and recognition industry can be tricky to figure out. What do these "employee recognition" or "service award" companies actually do? How would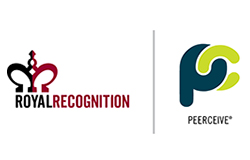 partnering with one benefit your business? Explore how affiliating with a workplace recognition expert can greatly improve the lives of your employees and organization as a whole. Let's be honest, everyone deserves a little recognition – whether it's an award for dedicated service, a thank you for a job well done or an incentive for meeting the sales goal that quarter. This is what to expect while working with Royal Recognition, Inc., a 37+ year old Wisconsin based company that specializes in workplace recognition solutions. We offer a wide variety of employee recognition programs that make it easy to acknowledge career milestones, life events, achievements and more.
Administration
During account setup, Royal Recognition will discuss yearly program goals as well as overall goals. We then propose the best approach to obtaining those goals and set your program up accordingly. We monitor your program and we then suggest improvements or enhancements to keep momentum high. Program Administrators can commit as much or as little time to the program as they'd like, while we take care of printing, order processing and distribution of the awards. By utilizing an outside recognition solution company, Human Resource Administrators can focus more on primary responsibilities and rely on their external partner to recognize their employees.
Enjoy effortless control and administration of your recognition program which are always available and up to date in real time. Our online Dashboard System provides customized reports tailored exactly to the results needed, and can be downloaded or viewed on your secure site. With reports always up to date, a recipient places an order, an item is shipped, the information is instantaneously updated and available for viewing. This information is constantly reviewed by our in-house coordinator and sales representative. The Admin Dashboard will provide the answers to most of your questions in real time. Each division of yours can be setup separately as well to accommodate the different types of programs running. We provide an in-house dedicated account coordinator to your account - no calling in and being put into a "customer service pool". In addition, our clients have direct access to our accounting department, customer care department, etc., A sales person would also be assigned to each individual client to insure they are kept up to date on new programs.
Best Practice
Our industry best practices include sourcing vendors and manufacturers where world standards are followed regarding child labor and work environment conditions. Participating in efforts of sustainability of energy efficiency and recycling. Conducting employee surveys and on-site workshops to insure employee feedback is matching award offerings and trends. Participating in industry client surveys and collecting and analyzing data to insure we are meeting and exceeding the needs of our clients. Royal Recognition will send customer satisfaction surveys to recipients that have been given an award in the past. This information is held and analyzed for further program enhancement. Clients may request that these results be shared on an annual basis. We provide webinars for training your Admin group at the specific locations. We also have administrator and employee onboarding guides that can be posted on line with platform and/or can be sent/emailed out for program launch. We also have video links for employees to log-in to show platform features and operations.
Customer Support
All help desk staff is employed by Royal Recognition and located in Muskego, WI and/or Montreal Canada. Our help desk and customer care departments can be accessed through links on our platforms, contacted via 800 number or emailed directly. All contacts/inquiries go into our internal ticket system and are monitored throughout the day. Most all inquiries are resolved answered within the hour, in the event that we need to contact shipping company, manufacturer etc. then additional time may be needed. Ticket logs are monitored internally by multiple departments and management to show "status" – each day logs are reviewed and escalated if needed to provide prompt resolutions.
At its core, Royal Recognition's Royal Rewards program is about recognizing employee loyalty with rewards that are positive proof of management's gratitude. These types of programs affect human behavior as they identify the employee's longevity and a sense of commitment to the company–the psychological boost everyone needs in the workplace. We are able to offer improvements to current processes through program administration assistance and added website functionality. Details of administration rest where they belong–with us and not on our clients' desks. Royal Recognition provides world-class recognition and reward solutions to organizations ready to harness the full potential of their workforce. We listen and collaborate with our clients to cultivate a wide and vast culture of recognition their valued employees deserve. This allows for brand growth, employee enrichment, and ultimately increased business through employee satisfaction. Programs developed by Royal Recognition inspire, reward and celebrate for years to come.