Celebrate Your Accomplishments Daily with Employee Badge Accents
by Joe Cull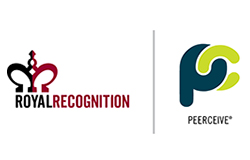 Over 85% of US companies have a years of service program, and they are usually handled by HR. A multitude of companies still give out the traditional years of service pins. Many things have changed over the years, but the tradition of the pin lives on in many companies. With the transition of companies requiring their employees to wear ID Badges, consider moving to a trendier option such as custom years of service badge holder. You already have the budget in place, and now employees will be wearing their years of service award every day!

What is a badge accent? - Literally speaking, badge accents are small, usually metal emblems that loops onto the plastic connection strap of your identification badge. They can feature your corporate logo and the years of service of the employee. But they can be so much more! While at work, your ID is on you 24/7. It is your gateway, your lifeline, to the various access points throughout the building. Why not make it a badge of honor as well?
Badge Accents will promote your branding in many ways. They are highly cost-effective and badge accents honoring years of service attracts attention in a way that amplifies your company's mission. They are highly visible and reinforce your branding. A custom design that matches your existing logo and branding will strike up conversations inside and outside the office. As your employees wear a badge in the workplace, people notice, affirming his or her commitment to the company. These employee achievement awards can easily start conversations about the company and instill a sense of accomplishment in an honored employee. If you're interested in showing staff members that their contributions over the years have been valued, consider celebrating them with a Badge Accent.

Badge Accents can also be used to recognize corporate milestones, for example 75 years in business or being recognized as a top-rated company in your industry.

Sometimes simple works...badge accents are a great way to reinforce your recognition programs.
Royal Recognition offers many options.
Visit us at: https://royalrec.com/capabilities/badge_accents/