An In-Depth Look at Peer to Peer Recognition
by Joe Cull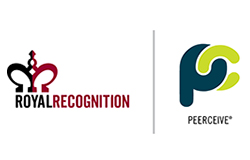 Peer to Peer recognition is really popular these days. As it should be! According to an outside study, companies that invest at least one percent of payroll into recognition practices saw increases in employee retention, engagement, and financial results. Of all the structured recognition programs, Peer to Peer programs are possibly the easiest to comprehend and produce the near instant results that employees and administrators crave.
You are essentially creating your own internal corporate culture with a Peer to Peer platform – a successful program can engage employees on a daily basis with thousands of "touches" a month. 
At its core, Peer to Peer recognition is the expression of appreciation between co-workers. This can be as simple as verbal appreciation – "Great job today!" or "Thank you for your help on that project!"– or a more structured program utilizing software to show gratitude.  Using the latter method provides a unique way to view overall employee engagement via data capturing and also takes pressure off managers to provide frequent acts of recognition. You can run campaigns such as wellness programs, corporate values reinforcement, productivity and sales contest, etc. All can be done by employee, department or companywide.
Essentially giving your employees the power to run their own Peer to Peer program can be exciting and empowering. When deciding to go with a structured program, be sure it is incredibly simple to use and provide training when needed to ensure employees will utilize it properly. Be sure to collect data along the way to track progress and program success.
Peer to peer programs, such as Peerceive® (

www.peerceive.com

)  by Royal Recognition, are generally easy to create, setup, and utilize and impact a wide range of employees. Specifically, Peerceive® is a web-based program that provides several innovative features such virtual high fives, personalized recognition boards to display trophies, badges and certificates and more. The web-based portion is especially important for international companies that provide the same types of employee benefits globally. Peer to Peer programs directly contribute to a more positive work environment, improved relationships at work, and boost company pride while providing the instant feedback that every employee craves.
Regardless of which method of Peer to Peer recognition your company supports, both are equally important and need to happen frequently to maintain high employee morale. Companies reinforcing this type of regular positive communication between coworkers generally experience an increase employee trust and inter-personal relationships, leading to higher levels of productivity, engagement, and unified workforces across the globe.