2023 WI SHRM
Student Conference
and Case Competition
April 1, 2023
Moraine Park Technical College
Beaver Dam Campus
Beaver Dam, WI
 
Conference Information
The WI State Council SHRM Student Case Competition will take place on Saturday, April 1, 2023 at Moraine Park Technical College in Beaver Dam.

In this "realistic job preview" competition, team members will leverage knowledge acquired through their studies and apply it to a realistic HR situation likely to be encountered in the work world. This competition requires integrated HR thinking, ethical decision-making, and strong communications and presentation skills.

Teams will be provided with a business case study 2 weeks before the event. Each team will analyze the case study and come up with a solution, preparing both a written executive summary and PowerPoint slides to be included in a 15-minute presentation to be submitted prior to the event. 

Prizes will be awarded:
1st Place - $1,000 

2nd Place - $850 

3rd Place - $500
 
Funds will be awarded to your schools' chapter to be utilized for future SHRM programming activities and events.
 
Individual Eligibility
*All competing team members must be current SHRM student members with active memberships at the time they register.

*All competing team members must be active students at their college/university.

*All team members must register as Case Competition attendees to be eligible to compete.

Team Eligibility 
*We are required to have at least 3 teams to run the competition. We can have up to 8 teams. A minimum of 2 students and a maximum of 6 students may participate on each team.

*Any team that registers after capacity has been reached will automatically be placed on a waitlist. If a slot opens, the team captain will be notified. Waitlisted teams will be invited to compete in the order in which they registered.

Registration Requirements
You will need the following information to register! Each member of the team must register separately and use the SAME team name.

*A Team Captain
*A Team Name
*All Team Members
  

When you register, please select from one of the below five registration types:

(1) Student HR Games and Conference Participant: University or Technical College students.

(2) Chapter Advisor – Advisors attending with your chapter.

(3) Conference Volunteers – Professional chapter members who are interested in performing a volunteer role during the games.
 
(4) Speakers – Guest speakers register using this registration type.
 
Questions? Please contact: 
Alexis Carter,  WI SHRM College Relations Director
collegerelationsdirector@wishrm.org or alexis.carter@alverno.edu

Interested in volunteering at the event?  Click here!
Event Pricing

 

Event Venue

Student (Full-Time Undergrad)
Student Chapter Admin/Advisor
SHRM Member
Non-SHRM Chapter Member
 
$0
$0
$0
$0
 

Moraine Park Technical College
700 Gould Street
Beaver Dam, WI 53916


Event Lodging

 

 

 
Holiday Inn Express & Suites
311 Seippel Blvd
Beaver Dam, WI 53142
ph:  920.392.7900



All reservations must be guaranteed with a major credit card. Any cancellations must be made 24 hours prior to the arrival date or a one-day charge will be assessed.









Conference at a Glance
Volunteer Orientation
Date/Time
Description
Online Virtual Meeting
Date TBD

Case Competition Judges Orientation - Time to be announced


 
Online Virtual Meeting
Date TBD

Volunteer Orientation - Time to be announced



Saturday, April 1, 2023: Conference Day
Time
Description
Note: Conference agenda may change without prior notice.
Keynote Speaker


Dorothy Enriquez,
Ellevate Collective




Need short description of program.



 

Dorothy Enriquez | Ellevate Collective
What it Means to Lead From Every Seat

About the Program:

College student, working professional, and contributor to one's community are all titles you each are all working to achieve. Let us explore how these positions and your affiliation as a SHRM student member can be leveraged as you continue to work towards what success looks like for you! Whatever the seat, join the conversation as we figure out what it means for you to take the next steps to claim your position.





What it Means to Lead From Every Seat is designed to help student leaders feel empowered as they unlock their leadership to rise into influential and powerful roles. This workshop offers practical and relatable tips regarding personal and professional growth and success. We will focus on getting into alignment and position to help you accelerate to your ascent. Participants will explore what it would look like to step into their leadership powerfully even in the face of fear. 





 What We Cover: 




 • Align with Your Purpose 




 • Take Your Seat at the Table 




 • Overcome Imposter Syndrome Benefits: When young people are developed, trained, and supported to ascend into powerful roles, they can change the game.





When tomorrow's leaders lead from every seat they sit in, the organization sees transformation as well as dollars. With the right mindset, skillset and toolset, emerging leaders would be primed to take their seat at the table in today's current landscape and climate. 



About the Speaker: 

 

Dorothy Enriquez is a third culture kid who grew up to love fashion, gal pal bonding, learning and leadership. Dorothy has found her written works on confidence, competence and closing the leadership gap in Forbes, Training Industry Magazine, The BOSS Network.





Dorothy is known for her effective communication skills, 'edutaining' leadership courseware and interactive programs. A 15-year veteran of Corporate America, wielding multiple certifications (Diversity, Equity & Inclusion, Emergenetics, Situational Leadership & Breakthrough Performance) and a master's degree in Human Communication, she strives to make transformative development accessible.





In 2018 after giving birth to her daughter, Dorothy went full time as a business owner. The Ellevate Collective, formerly known as The Communication Strategist is dedicated to helping organizations and individuals optimize their leadership so that they are equipped to lead from every seat they sit in.





Serving clients such as African American Leadership Alliance Milwaukee, Apartment Association Kansas City, FUEL Milwaukee, Kohl's, The Y, Campbell's The Boys & Girls Club of Greater Milwaukee, Rockwell Automation & The City of Milwaukee, Ellevate strategically supports you through your leadership transformation in a relatable and impactful way.
---
Contact Information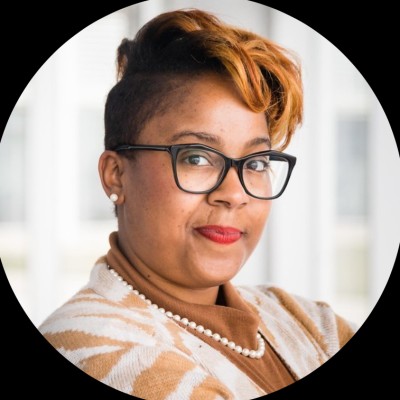 ---
Biography
Originally from Seattle, Washington, Alexis B. Carter has called Milwaukee home since 2001 following a relocation to the Midwest. Carter received her BA in Business and Management from Alverno College and her Master's Degree in Science and Management from Cardinal Strich University.

For the last 14 years, Carter has held positions focusing on the functions of Human Resources and Education (K-12 and Higher Ed). Carter's experience in executive-level recruitment, talent acquisition, and employee incentive programming has helped shift the organizational culture of a variety of organizations and promote change management. In K-12 and higher education settings, she has passionately served in the public, private and charter sectors, most recently serving for four years, as the Director of Admissions and Enrollment at St. Joan Antida High School, an all-girls school.

In 2019, Carter returned to her alma mater, Alverno College as an employee, to serve in the role of Assistant Director of Admissions for Undergraduate students. It has been a pleasure for Carter to be able to serve in all-girl educational space and promote college to prospective students and families.

Carter is currently studying to get her credentials to be a certified professional of Human Resources by taking the SHRM – CP exam in the summer of 2020. Carter served on the Executive Board of Directors at Highland Community Montessori School, is a current member of Milwaukee Metro Society for
Human Resource Management, is a member of the Diversity Equity & Inclusion Council at Alverno College, and helps combat homelessness as a member of the Salvation Army's millennial professional group: Echelon Milwaukee.

In her spare time, Carter enjoys watching Wisconsin sports (Go Bucks Go!), playing on her local kickball league, playing the violin, cooking, gardening and spending time traveling with her husband and eight-year-old son Che (like Hey but with a C).
Additional Information
Resources