2019 Enterprising Leadership Grant Awards
The WI SHRM Enterprising Leadership Grant, established in 2008, awards a chapter or chapters a grant to support a "partnership" with another WI-based organization that promotes communication and collaboration between HR and other business professionals/organizations across the state.  It is intended to fund initiatives that are innovative and strives to bring business professionals together toward a common cause, led by the HR community.
Criteria include having a partnership with an organization outside of SHRM that has goals/objectives that help advance the HR profession and a joint planned activity or initiative with that organization that demonstrates Enterprising HR Leadership Communication, Collaboration and/or Education of/between business professionals.
This year, the WI State Council SHRM received six applications from Chapters across the State.  All these Chapters are working hard toward fulfilling the objectives of this initiative and the decision as to how to award the funds was a difficult one.  The committee based their decision on how well the initiatives aligned with SHRM's Vision for 2020.  As SHRM's President and CEO, Johnny Taylor Jr., SHRM-SCP shared at the Volunteer Leaders Business Meeting in Washington DC, SHRM is embracing business solutions like building more-inclusive workplace cultures and closing the skills gap and continuing to work to aid companies in hiring people often overlooked in the job market.
It is critical for the WI State Council and the Local Chapters to align with those objectives and the winners of the Enterprising Leadership Award demonstrated that alignment in order for us to support SHRM in building "Better Workplaces, Better World".
I am pleased to announce the winners of the 2019 Enterprising Leadership Award, Chippewa Valley SHRM and Metro Miilwaukee SHRM. 
Chippewa Valley SHRM will receive $4,000 to support their partnership with the Eau Claire Chamber of Commerce to sponsor a Diversity and Inclusion Leadership Conference on May 21, 2020.  The goal of this half day conference featuring National and State speakers Ellie Krug, Alonzo Kelly and Alvin Hill, is to share information and learn best practices about diversity, inclusion and minority business by leveraging members' combined experience and knowledge to advance diversity and inclusion programs and practices throughout professions; provide business members with access to information, individuals and ideas that will help them build more economically and socially inclusive organizations, and become a forum to discuss new diversity and inclusion ideas and initiatives.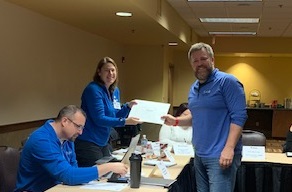 Metro Milwaukee SHRM will receive $2,000 to support their partnership with the Milwaukee Brewers and Fisher House, a charity known for
providing comfort homes where military and veterans' families can stay at no cost while a loved one is receiving treatment.  Aligning with SHRM's emphasis on veteran hiring, Metro Milwaukee SHRM is able to have a presence that the event and promote hiring initiatives to their members.  As a team, their members have an opportunity to interact with the larger community, including many from the business community who are primary sponsors of the event and significant employers of their members. Their promotion of the event and veterans initiatives will reach their 700+ members with multiple exposures.  Additionally, the reach on the day of the event and through social media will be in the hundreds if not thousands.  After the event, the residual will be significant bringing Metro Milwaukee SHRM's members closer to veterans' organizations and the business community as they work for a common cause.
Congratulations to both Chippewa Valley SHRM and Metro Milwaukee SHRM on their awards and thank you to all of the chapters who submitted applications this year.
-Jackie Peterson, WI SHRM State Director Elect