Membership Director
Overview
The Membership Director is responsible for providing leadership to membership activities in chapters, particularly assuring that chapter membership directors have access to resources necessary to recruit at-large SHRM members to chapters, local chapter members only to SHRM, and non-affiliated HR professionals to both organizations.
Join a Local SHRM Affiliated Chapter Today
Join a Local SHRM Affiliated Chapter Today
"If you are not a member of a local chapter you are only half way there!"
The Society for Human Resource Management (SHRM) is the world's largest association devoted to human resource management. Representing more than 250,000 members in over 140 countries, the Society serves the needs of HR professionals and advances the interests of the HR profession. Founded in 1948, SHRM has more than 575 affiliated chapters within the United States and subsidiary offices in China and India.
If you are a SHRM member then you already know the importance of SHRM membership. You know you can utilize a wealth of services and programs that give you that extra edge of HR knowledge to help you be a valuable resource to your organization.
Well, did you know that there are also local resources available to you as well? Being a member of a
local SHRM affiliated chapter
will enhance your current SHRM membership in so many ways.
You will develop a local HR network of other HR professionals in your area who can share how their organizations handle HR situations, policies & procedures
You will learn about current best practices to make your organization more efficient
You will gain access to the latest information on local legislation that may impact your business operations
You may receive SHRM Certification Institute credit for attendance at various chapter meetings which have obtained SHRM approval
You will have an opportunity to develop your leadership skills by volunteering in your local chapter
Visit the Wisconsin State SHRM Council website at:
http://www.wishrm.org/Chapters
or Contact Colleen Koerth, WISHRM Membership Director,
ckoerth@blackhawk.edu
to find the chapter in your area and learn more about the benefits of joining a local chapter.
View More
Contact Information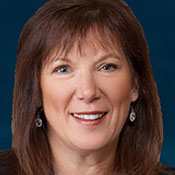 Debbie Fedel, SHRM-CP, PHR
Membership Director
SEEK Careers/Staffing
Ph: (262) 377-8888
Em: dfedel@seekcareers.com
---
Biography
Debbie Fedel, CSP, PHR, SHRM-CP, is the VP of Business Development at SEEK Careers/Staffing. She oversees client satisfaction at SEEK and is a member of the President's Advisory Team. She earned her Professional Human Resources (PHR) certificate in 1997, her CSP (Certified Staffing Professional) in 1993 and her Society of Human Resources Certified Professional (SHRM-CP) in 2015.

Debbie is very active in the Wisconsin Society of Human Resources Managers (SHRM). She currently serves on the WI-SHRM Leadership Committee. In the past she has chaired this committee as the Leadership Director for 3 years and has also served on the State Conference committee. She has had past positions as the President of the Sheboygan Area Chapter and she was on the board for the Milwaukee Metro Chapter, where she chaired the Certification Committee. Debbie has also served and chaired the Membership, Program and Professional Development committees for local chapters.

Currently Debbie is Chair of the Board of Directors for Portal, Inc. in Grafton, WI.

She received a Bachelor of Science from the University of Wisconsin-La Crosse, with a major in social work.

---
Additional Information
Resources