Onboarding New Employees
By Jim Holwerda, Remedy Intelligent Staffing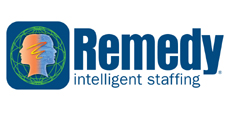 Finding and hiring the right staff is just the beginning when assembling your workforce. Proper onboarding is vital because turnover is costly – in time, recruiting costs, productivity loss, and morale. Onboarding is more than just filling out proper HR forms and attending an orientation meeting. It's the process of organizational socialization. You want to teach your new staff members about your company's mission, values, and culture, as well as how they fit into their departments and the organization as a whole.

To make an employee's first day a less stressful experience, plan ahead for a smooth arrival. You don't want your new hire to show up and have no place to sit or a cubicle without a workstation. It's up to you and the department head to provide all the tools to do the assignments for which you've hired the new employee.

Have the company's policy handbook and relevant paperwork ready on Day One. If your business has a new hire web portal that allows electronic completion of forms before the first day of employment, so much the better. Best-in-class companies with pre-boarding in place are 11% more likely to retain first-year employees and 14% more likely to have employees who exceed performance expectations, according to Aberdeen Group research.

While first impressions are important to make new employees feel welcomed and valued, effective onboarding lasts weeks or months. Onboarding education should encompass the company's core values and mission statement, programs and offerings, tools and technology, team goals and success measurement criteria, and individual tasks, goals and career path. If the outgoing employee is available to train the new recruit, take advantage of the opportunity for shadowing. Assigning a peer mentor can also help newbies adapt more quickly.

After a short orientation and minimal training, some companies make the mistake of throwing newbies in the deep end of the pool to see if they sink or swim. In addition to getting new hires acclimated to the company culture, thorough position-specific training will enhance retention. Job duties should be outlined in a detailed, clearly written "how-to" manual, hopefully in an electronic version that is easily searchable. Video training is great for visual learners, and allows new employees to replay and review as needed. Producing video modules and a step-by-step handbook for each job title may be time-consuming, but well worth the effort in the long run.

Don't forget to address company processes in meetings with your newbies. Discuss the company's organizational chart, how they fit in, and how department and company decisions are made. Explain the company's communication culture (email protocol, virtual/in-person meetings, texting/instant messaging, etc.).

It can take up to a year for a new employee to reach full productivity. Aberdeen research shows companies with shorter onboarding programs (one month or less) are 9% less likely to retain first-year employees. Managers should check in regularly with freshman for feedback – not just in passing – with weekly or even daily meetings at first to ensure tasks are understood and completed and to gauge satisfaction of both parties. Regularly schedule more formal reviews according to your company's schedule.

Last year's voluntary turnover rate averaged 11.6% across all industries, according to the 2015 CompData BenchmarkPro Survey, and was as high as 14.2% in Finance/Banking and Health Care sectors. Combined with the drastic increase in hiring and the lowest unemployment numbers in years, it is imperative to look at effective onboarding and training to increase retention and productivity.

BIO:
Jim Holwerda is owner and manager of 10 Remedy Intelligent Staffing franchises across Wisconsin. A staffing industry professional with more than 15 years of experience, Jim and his team of recruiters and business development professionals provide strategic staffing solutions to employers throughout Wisconsin.