apprenticeship.
It's no secret employers are searching for skilled employees in all industries. The construction industry is booming, manufacturers are flourishing, tech companies abound in Wisconsin, and the healthcare industry is, well, a bit stretched for people these days too. A skilled, educated workforce is important to the economic growth of our communities, and Wisconsin's higher education institutions are taking seriously the task of educating and training our people.
In 2017, the Wisconsin Technical College System, the University of Wisconsin System and the Wisconsin Association of Independent Colleges and Universities banded together with the help of Lumina Foundation to increase the educational attainment of Wisconsin's population.
A higher 'attainment rate' – the proportion of people aged 25-64 with an education credential beyond high school – is tied to greater labor force participation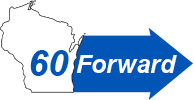 and increased earnings. In 2017, Wisconsin's attainment rate was 50.5%, above the national rate of 47.6% The goal set by the three educational systems, branded as 60forward, is to reach 60% by 2027. With all three major educational organizations working together, Wisconsin's educational attainment rate is now 54.7% compared to the national rate of 51.9%. The latest numbers show as much as a 30% swing from the highest to the lowest counties. Supporting employee development would help both students and employers, and help the state compete more effectively.
So we're making progress but there's still work to be done.  The varied program, certificate and apprenticeships offerings available through the technical colleges give students the options they are seeking to gain viable employment, help you find the employees you need, and increase the educational attainment of our state's workforce.
What this all means for you is that we are working together to bring you the educated, skilled workforce you need. Our colleges respond to workforce needs by working directly with employers in their areas. We are consistently altering program offerings to best match the needs of the communities we serve. Connect with your local technical college to have input on the programs offered, and to gain access to technical college graduates.