2018 Day on the Hill is 3 weeks away!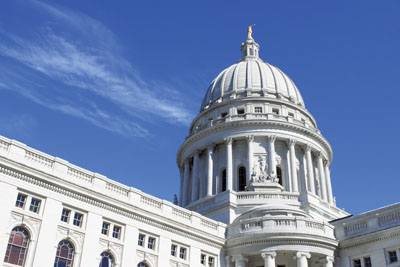 Join your HR colleagues from around the state at our 4th Annual WISHRM Day on the Hill event! The Day on the Hill provides you the unique opportunity to travel to Madison, WI for a day of legislative insight and networking with colleagues and legislators. The event is scheduled in February to provide our attendees with the opportunity to make an impact prior to the end of the current legislative session.
The day will begin with Meredith Nethercutt, Senior Associate for Member Advocacy at National SHRM will deliver training on how to conduct an advocacy meeting with a Legislator and/or Legislative staff member. Then there will be an employment law update from Attorney Bob Gregg of the Boardman & Clark Law Firm. Attorney Tony Renning of Strang, Patteson, Renning, Lewis & Lacy, S.C. Law Firm will give a brief discussion on "How a Bill Becomes a Law" followed by a Legislative Update from the State Capitol by Chris Reader, Director of Health and Human Resources Policy at Wisconsin Manufacturers and Commerce. Susan Sieger, Senior Compliance Consultant with Employee Benefits Corporation will present on the State of Healthcare. After a networking lunch, we will then hear from Reporter Jessie Opoien who covers state government and politics for the Capital Times in Madison. The day will conclude with scheduled meetings with your individual Legislators and/or Legislative staff members at the Wisconsin State Capitol. Business attire is recommended for legislative meetings.
The Day on the Hill will provide a great opportunity for you to advocate on behalf of WISHRM and the HR profession, to learn more about the political process, and to have a real impact on the public policy debate in Wisconsin involving critical HR and business issues.
Also, join us at the Top of the Park on
Tuesday evening from 5:30pm to 7pm for a social/networking event
. Dress is casual. If you are unable to attend the Wednesday Day on the Hill event, but would still like to attend the Tuesday networking event, the cost to attend the networking event only is $25.