We are pleased to announce that this year, the Enterprising Leadership Grant has been awarded to three Chapters. Congratulations to Dodge County SHRM, Green Bay SHRM, and Metro Milwaukee SHRM! Each Chapter was recognized at the December, 2017 State Council Meeting in Wisconsin Dells, WI.
Read more about the partnerships these Chapters have developed:
Metro Milwaukee SHRM
For the sixth year, MMSHRM and ASIS, the association for security professionals, will partner on a program directed toward the membership of each group. The Enterprising Leadership Grant will be invested into up-leveling this year's event, likely through the use of a paid speaker. While a topic and speaker have not yet been selected, we do know that the date of this year's program will be May 9 at the Medical College of Wisconsin.
In the past, programs have bridged an important gap between the two worlds of security and HR. While at first blush it may not seem as though the two have a lot in common, we've offered programs such as: domestic violence in the workplace, workplace investigations, dealing with the contingent workforce, and crisis preparedness.
As these groups have worked together, greater understanding has led to enhanced knowledge and resources for each group and each program has opened the door to another aspect of the workplace where both groups play a key role.
Metro Milwaukee SHRM was awarded $1,000.
Dodge County SHRM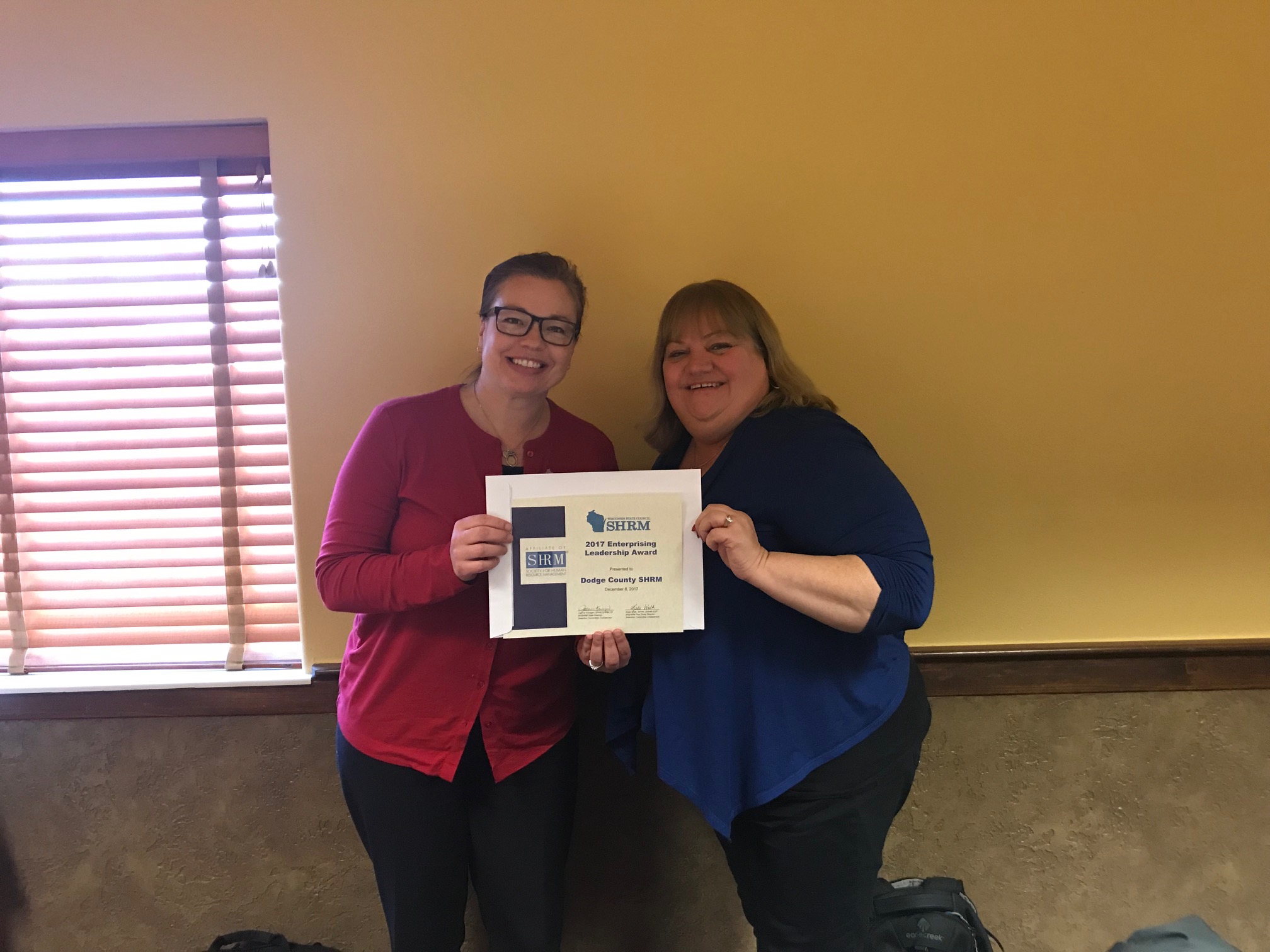 Dodge County SHRM began working with the Glacial Heritage Development Partnership (GHDP) in March 2017; with a specific focus on helping Dodge County Manufacturers' attract the workers they need. The GHDP proposed completion of a Labor Availability Analysis, specifically focused on understanding the wages and benefits necessary for workers to accept positions in manufacturing in Dodge County. A Labor Availability Analysis has never been done in the State of Wisconsin. Recent data indicates that over 62% of the County's employed residents currently leave Dodge County for employment every day. The goal is to better understand how we can keep these workers employed IN Dodge County, and specifically, in manufacturing; the County's largest industry sector. The results of this study will be widely shared with SHRM members and will be used by the GHDP to work with existing employers to help them attract workers; and in their work to attract new manufacturing-related businesses to the area.
The Study will deliver:
a. Specific information about the availability of manufacturing workers in the 6-county labor shed area from Mayville, WI (a central point in Dodge County with a heavy manufacturing presence);
b. Specific information about the willingness of people in the labor shed area with no manufacturing experience, to accept a position in manufacturing in Dodge County'
c. Specific information about the wages and benefits necessary to attract these workers to accept positions in manufacturing in Dodge County
Dodge County SHRM was awarded $2,000 to help with the costs of the Labor Availability Analysis.
Green Bay SHRM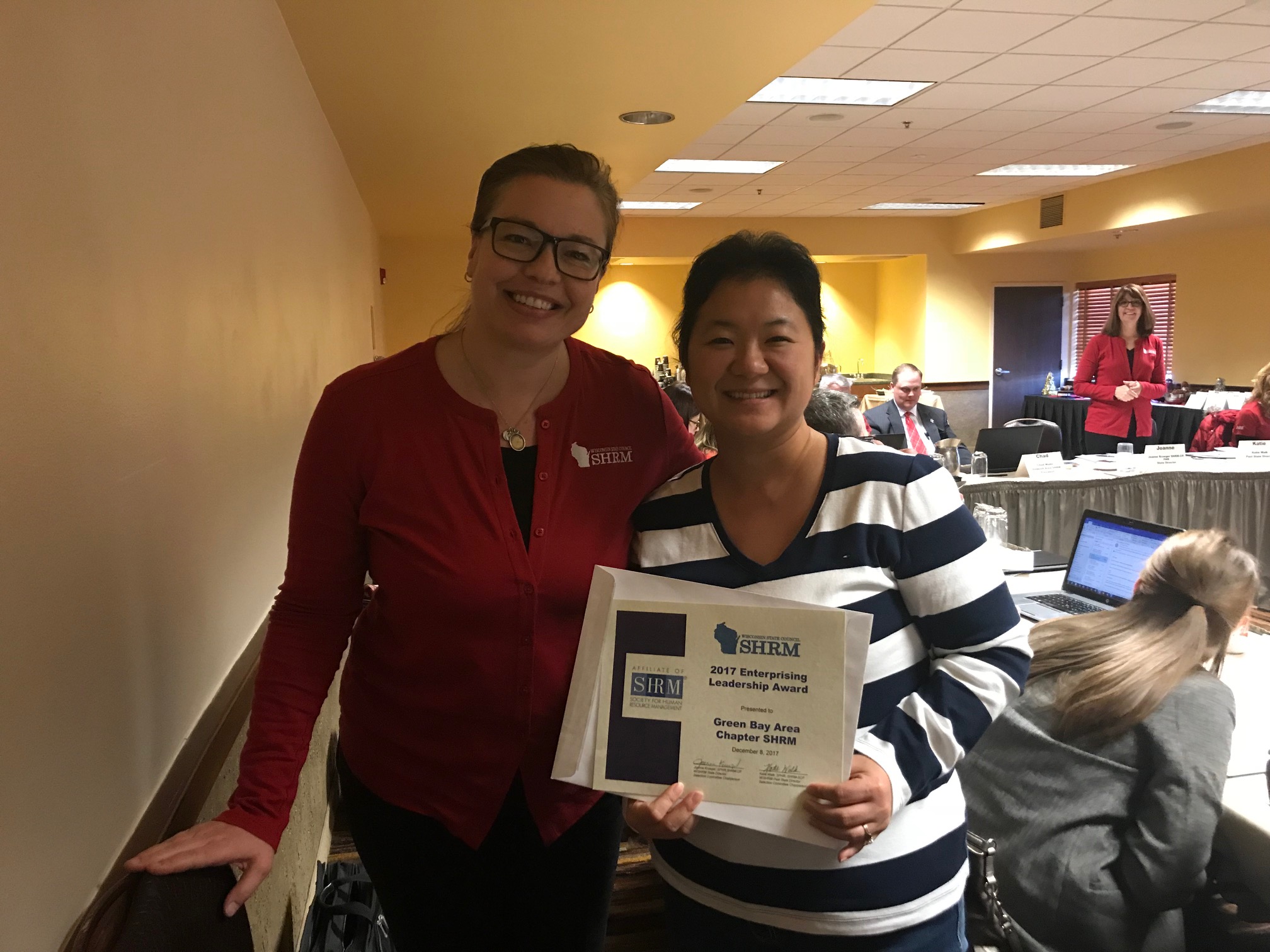 As a chapter, we've always admired the mission of Management Women, to promote professional growth and development of women, by women. Similarly, it is the mission of GB SHRM to provide HR professionals with professional growth and development. Partnering to provide professional growth & development will provide greater resources and greater audience further enhancing our missions!
Our first project together is "A Coach Approach" presented by Darcy Luoma. Creating a coaching culture in business and in our community drives empowerment and change. We've promoted this program together, announcing our partnership and on December 20th we will review our message of unity for additional collaboration.
Program collaboration between Management Women and GB SHRM benefits members by providing tools, knowledge and experiences to all!
Green Bay SHRM was awarded $1,000 to help with the cost of the joint program.
Thank you to all the 2017 nominees. It's not too early to start planning for 2018! Up to $5,000 is available for Wisconsin SHRM Chapter(s) to implement an activity or initiative in the area of Enterprising HR Leadership. Criteria include having 1) a partnership with an organization outside SHRM that has goals/objectives that help advance the HR profession, and 2) a joint planned activity or initiative with that organization that demonstrates Enterprising HR Leadership (Communication, Collaboration and/or Education between business professionals).
For more information about the grant please contact Joanne Krueger, SHRM-CP, PHR, - kruegjo@gmail.com.