Two Wisconsin chapters were designated award winners of the Pinnacle Award at this year's Volunteer Leadership Summit in Washington, D.C. November 16-18, 2017. Congratulations to Dodge County and Metro Milwaukee SHRM!
The SHRM Pinnacle Awards Program is an annual recognition program honoring the highest achievements in affiliate development and contributions that enhance the development of effective human resource management. SHRM affiliates enter the competition by submitting an innovative project created by the chapter or state council, and special consideraion is given to successful programs that are readily transferable to other affiliates.
Read about the projects submitted by each chapter below!
SHRM · Dodge County
-
"The Value of Joined Forces"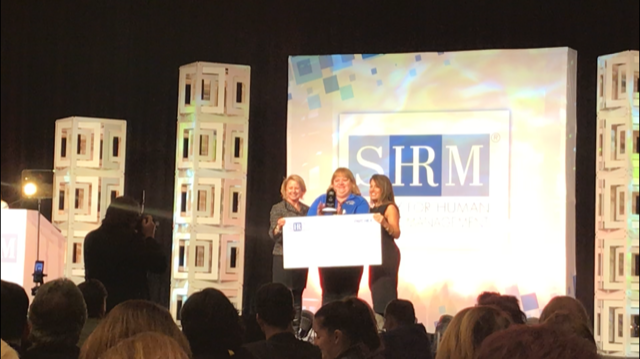 In 2015 and again in 2016 at the Wisconsin SHRM State Conference, SHRM chapters across the state were encouraged to support the hiring of veterans. The Dodge County SHRM chapter felt strongly about this opportunity to connect veterans and employers, and it signed a commitment pledge to do so. Taking this pledge to a higher level, Dodge County SHRM partnered with Moraine Park Technical College (MPTC), along with the Dodge County Veterans Service officer, WI Department of Veterans Affairs, MPTC's Student Veterans Specialist, MPTC Career Center, the student veterans chapter and the MPTC/Dodge County student SHRM chapters, to create a unique veterans hiring and resource event that not only brought together many partners, employers and veterans, but also created personalized opportunities for veterans to obtain meaningful employment within the region, receive free career counseling and connect with community resources available to them.
Addressing the labor shortage crisis in our area, along with working with partners to provide opportunities and guidance to veterans, is one of the many initiatives that Dodge County SHRM is known and respected for within our local communities. The hiring and resource event brought in over 50% of our employer members, who assisted, coached and hired student and community veterans, thus continuing our mission of being a valuable organization in our communities that creates unique opportunities that contribute to the vibrant future of Dodge County.
Metro Milwaukee SHRM - HR Executive Insights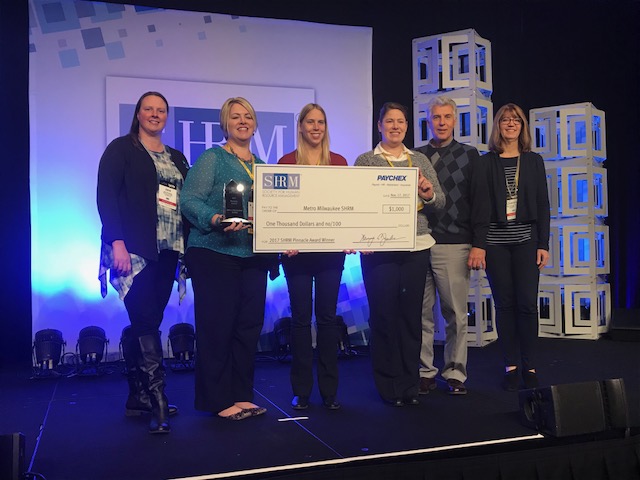 Time and again, the word that kept coming up in conversations among the leadership group and feedback from our members was "value." It was no longer enough to hold an annual conference, host monthly programs on the SHRM Body of Competency and Knowledge, send out an e-newsletter or host a few networking events. Members wanted more.
As we looked at ways to increase the value of membership, we looked both inside and outside the organization. One particular challenge was discussed: the level of engagement among senior HR professionals in the area. The feedback we were getting from the professionals was that the programs we were offering were often aimed at mid-level HR professionals. We also heard that there was interest in "giving back" to the profession but that mentoring programs simply took more time than people had available.
Out of these two ideas came our HR Executive Insights program. The half-day program was presented to a group of more than 200 members, free of charge, and to an invited group of non-member, senior HR professionals from the area. By limiting the commitment to a single day, we were able to secure the involvement of senior HR professionals. By sharing their stories in a moderated panel, we were able to provide top-level insights to our members and senior HR guests on the topics of professional development, HR as a strategic business partner and more. The feedback on the program was outstanding. The result has been higher rates of retention and an increase in membership, with many of the new members coming from our panelists' organizations. HR Executive Insights was more than a one-time event. It was a foundation for future success and growth of the chapter.