Why Isnít Executive Coaching In your Company Toolbox?
Executive Coaching & Development | Loichinger Advantage LLC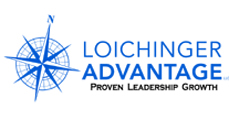 Forward HR | July, 2016
Why Isnít Executive Coaching In your Company Toolbox?
Leadership training is often the standard tool for a companyís leadership development toolbox. I have nothing against leadership development. In fact, I successfully designed and facilitated many throughout my career. I am simply asking why more companies havenít included executive coaching in their companyís toolbox?
Iím guessing that myths and realities have something to do with the answer if youíre similar to other human resource leaders. One reality is leadership training is easier to gain approval and implement. Who doesnít think we need better leaders in our organizations. Got it. Another is that it is easy to manage and check off our list of many projects when done. True.
What if you continued leadership training, but also used executive coaching as well? Better yet, why would you want to include executive coaching when is carries risk for you to select, design and implement?
Thatís a great place to start. Letís clarify the why and the business case for your organization. There are many, but let me share a few with you should you want to consider moving forward.
Critical Role: Executives play a critical role in looking to the future, making strategic decisions on positioning, resources, change and other major initiatives. Yes they are paid well, but they carry a large and ever changing role for us.

Target Resources: How many times will companies bring every manager and executive into a leadership workshop, knowing they are simply complying? Invest in those who Ďgetí leadership, and are willing to develop their talents and skills. We are working with limited resources. Use them wisely.

Proven Results: Workshops allow us to target the average learning and apply the general knowledge and skills that we expect managers to apply. Coaching in comparison is a rifle shot. We are working on a few goals, skills or strengths. That approach allows us to deliver proven results Ė productivity, savings, and growth.

Deeper Learning: As a coach, I have the ability to question, mentor, and challenge my clients. We are not only able to provide proven results, but help the leader understand more about themselves, and provide them the ability to really understand how to strengthen key relationships with people around them.

Absolute Candor: The higher up in the organizations leaders are, the more insulated they are from truth and candor. People tell CEOís and Managing Partners what they think they want to hear. Executive coaches have the honor and responsibility of showing clients the truth, and blind spots as they are revealed.

Support & Confidence: If you have never been at the top, you donít know how lonely it can be. The buck stops with the executive and owner. Although we know they arenít perfect, we often expect them to make perfect decisions. Whether addressing a current dilemma, or planning a bold move, coaches can help executive reduce risk, improve implementations and fail fast.
Executive coaching is for every company and every executive, but for those who plan and implement it well, the ROI can range from 4 Ė 45 X your company investment.
---
Dan Loichinger is the founder and president of Loichinger Advantage LLC (www.loichingeradvantage.com). The Madison-based firm delivers proprietary executive coaching, leadership assessments and executive roundtables for owners and executives of growing Wisconsin companies. Clients value their ability to increase their leadership effectiveness, improve their insight, accelerate change, and increase their competitive advantage. Together with our clients, we deliver proven leadership growth.